The world's best tech hiring teams trust Codility
For ten years we've partnered with some of the world's biggest companies in the most dynamic industries. By using our platform and expertise to refactor their recruitment, we help them innovate and grow faster.
10M+
DEVELOPERS EVALUATED
How Okta expanded their pipeline and tested 2399 candidates
"Candidate experience is great, the tool is very versatile and robust. It's amazing how great the interns did this year."
Kathy Mason, University Recruiter
How Dolby saved time by evolving their hiring process
"We had an initial trial, we gave it to our engineers and said to go and play with it, try to break it. We created a bunch of initial tests that we found useful as we began incorporating Codility into our hiring processes."
Stephen Byrne, Lead Recruitment Manager
How finleap streamlines technical hiring for its diverse ecosystem
"With Codility, we've gone from an engineer taking 3 weeks to start an assessment to just 2 or 3 minutes."
Tom Moore-Stanley, Recruiting Lead: Technology, Product & Design
How Ocado Technology Finds the Best Tech Candidates
"We're hiring for roles in Software Engineering, Product Management, Mechanical, and Electronic Engineering, and Data Science to name but a few. Being able to quickly filter out applications so only the most suitable candidates move forward to meet our hiring managers is helpful."
Emily Bowers, UK Recruitment Manager
How M1 Assesses Internal Tech Skills to Drive Digital Transformation
"One of the biggest benefits of working with Codility was the ability to align with experts to customize our assessments"
Ng Chow Yong, Senior Manager, Special Projects
How Guidewire Maximizes Candidate Quality and Reduces Time to Hire
"Having CodeLive didn't just make it easy for us to transition to remote hiring—it gives our hiring managers confidence."
Ian Doyle, Consulting Manager
How Samba TV Builds Its International Engineering Teams
"We've been impressed with all the different features that Codility delivers for us."
Kristen Huie, Sr. Talent Partner, Global Tech
How FlixBus Significantly Reduced Time to Hire with New Technology
"We knew we had to speed up the process for our engineers. That's when we began looking at the market for new recruiting solutions and found Codility"
Brady Richards, Tech Recruiter
How Avature connected with 698 new candidates
"With our Codility Sponsored Challenge, we were able to put our brand in front of thousands of talented developers and stand out in a fresh, unique way. We're also really happy with how much exposure we got in the global developer community."
Denise Dresler, Director of Talent Acquisition
Trusted by the World's Best Companies
For 10 years we've partnered with enterprise engineering teams. We have over 1,500 customers globally and work with the best of the best, in technology, finance, government, e-commerce, transportation and entertainment.
Take a Tour of Codility
Request a demo
Got questions? Book a customized 30-minute demo to view key features and see how we can improve your tech hiring.
Request a demo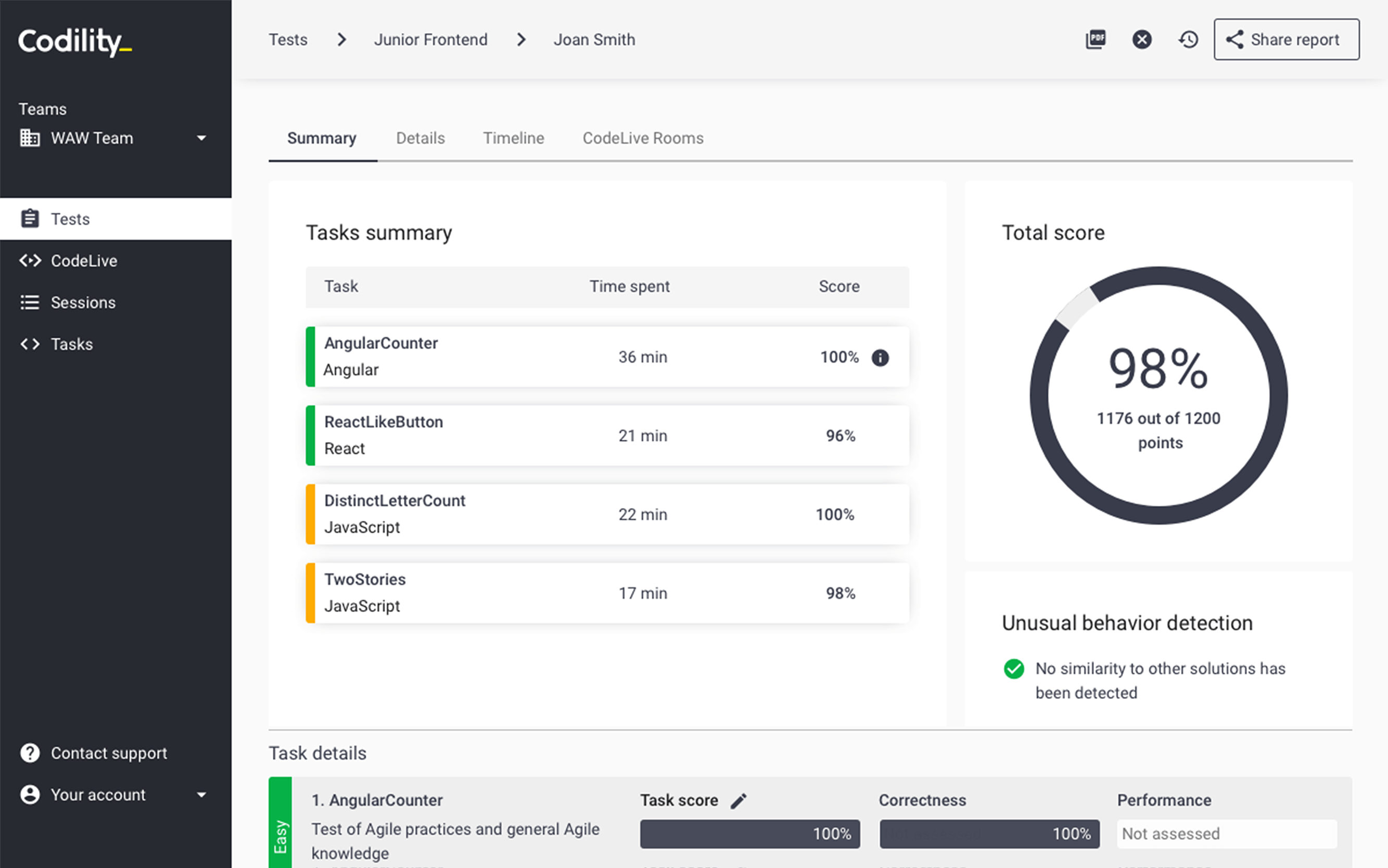 KNOWLEDGE HUB
Latest news and insights
Tech Hiring
How Bentley Used Online Recruitment Software To Increase Campus Hiring
While many companies slowed down in 2020, Bentley Systems continued its graduate program through a remote recruitment platform. Here's how.
Read more