CodeChallenge
Fill your pipeline with perfect hires
Get your brand in front of thousands of ideal candidates remote or onsite, re-engage existing followers and attract the best of the best into your pipeline.
Reconnect with disengaged and former candidates by inviting them to take part in your CodeChallenge, invite interested engineers to your tech interviews.
CodeChallenge
Supercharge in-person events
We'll help you maximize your impact at events, helping you drive developer foot traffic to your stand, with early registrations, fun prizes, and a public leaderboard. 
Capture the contact information of all participants, with a leaderboard that identifies top talent, to easily fill your recruitment funnel with perfect potential hires. 
CodeChallenge
Captivate ideal candidates remotely
Promoting remote CodeChallenges across social, and with targeted marketing, engages fans, followers and passive job hunters alike, so you can convert them into candidates.
CodeChallenge
We handle the tech, you create the campaign
We've been running remote coding challenges since 2012. We'll handle the tech, make the challenge fun and drive competition. Leaving you to focus on building the campaign.  
Branded registration page and leaderboard, aligned to campaign creative

Purpose-built challenge tasks, exclusive to your CodeChallenge

Real-time access to participant scores for fast follow up

Challenges can last as little as 2 hours or as long as 2 weeks
Take a tour of Codility
Got questions? Book a customized 30-minute demo to view key features and see how we can improve your tech hiring.
Get started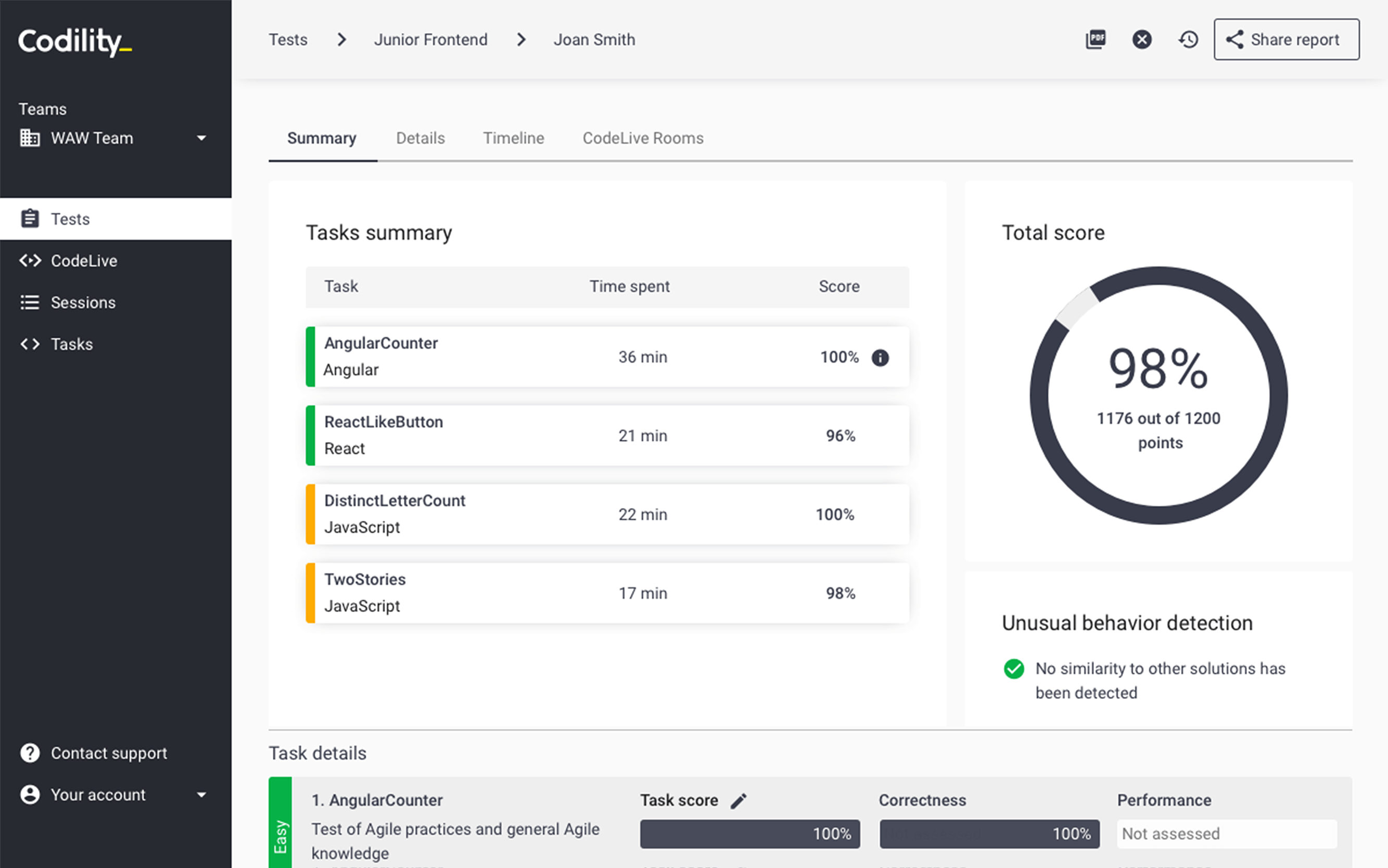 Add a layer of intelligence to your hiring stack
Connect Codility's tech recruiting platform with your team's applicant tracking system and productivity tools to help your whole team work smarter and recruit with velocity. ​​​​​​​