Be the first to know
Sign up for a weekly dose of tech hiring news and updates.
Good candidates interview employers just as much as the employers interview them, so it's good to know the ins and outs of a great in-person interview before performing one.
One of the primary goals while hiring software engineers is to learn more about the interviewee, but providing a stellar candidate experience to make your opportunities as desirable as possible is equally as important.
Showing a high level of professionalism when hiring software engineers gives potential employees the confidence that they're making the right decision by going with your company. There should never be any doubt in an interviewee's mind about your professionalism. And that means providing a candidate experience emanating precisely why they should want to work for your company.
The interviewee and employer each have equal power when it comes to making the decision to work together. That being the case, employers have several duties to fulfill when conducting an interview, if they want to hire the best software engineers. Throughout this article, we'll go over the elements many software engineers look for in an interview with a company and how to provide the best candidate experience for them.
1. The purpose of interviewing a software engineer
An interview process without purpose is a ship without a sail. The point of the interview is twofold, and is the driving force behind the interview. Having a firm understanding of that purpose before conducting the interview is essential to the success of the interview process as a whole.
1a. Their purpose for going through the interview process
On the one hand, you want to learn about the software engineer. How many years of experience do they have? Do they have a knack for project management? Questions like these will inform your perspective on what makes a great software engineer.
1b. Your purpose for hiring a software engineer
However, it's also imperative to establish what your company is hiring for. For example, if you're looking to hire a freelance software engineer to clean up some code or improve functionality, choose questions that ask the interviewee about their freelance experience, project management, and experience working with past clients. But, if your goal is to find someone reliable to bring in-house for long-term projects, make sure to include questions that revolve around their ideal workplace, culture, and other team-related considerations.
Desirable soft skills for a software engineer
Identifying desirable soft skills for the role is also necessary. Soft skills include communication, teamwork, adaptability, problem solving, critical observation, conflict resolution, and leadership. These professional programmer skills are intangible and hard to measure, but it's important to get a sense of what it would be like to work with a candidate as a person, not just a coder.
Understanding what desirable soft skills you are looking for and learning what desirable soft skills the developer has can provide you with a good idea of whether or not they'll fit into your company culture. There are various elements in company culture, but it should be easy to determine if they'll fit in. Do they share some or most of your company's mission, values, ethics, expectations, and goals?
Address compensation in the interview process
During your hiring process, get a sense of the software engineer's desired pay. Doing so saves worlds of headaches when talking compensation later in the process. This also gives the software engineer a chance to show the value they plan to bring to your company in exchange.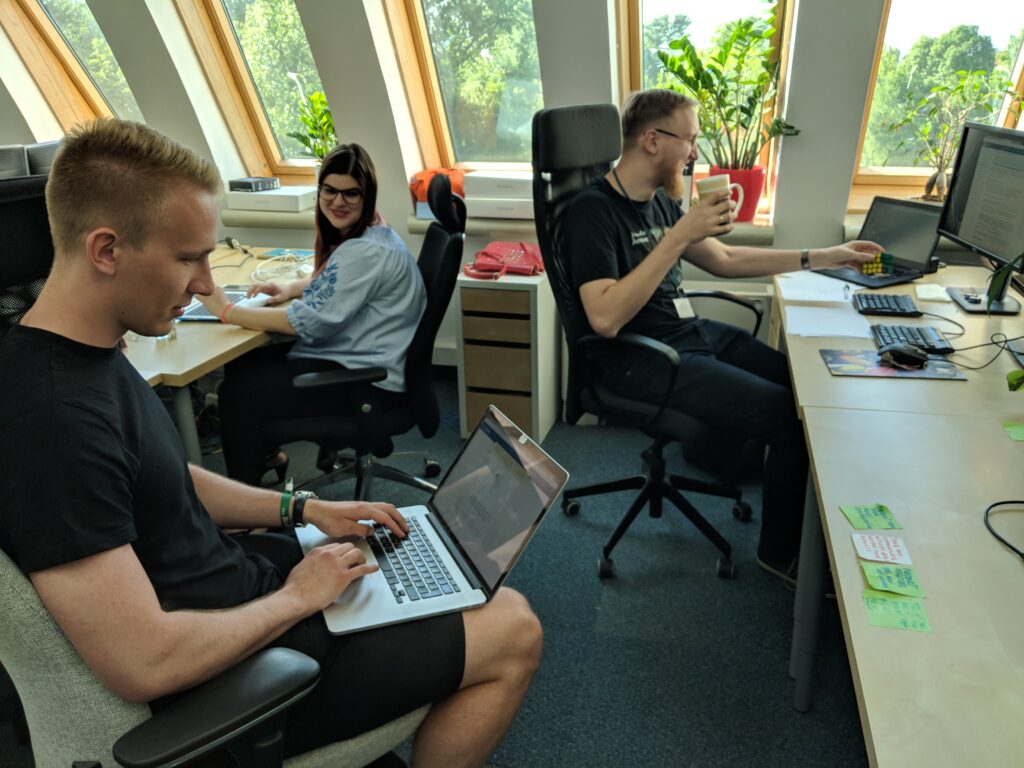 2. The decision-maker's role in hiring software engineers
Being present in the interview process
Anyone involved in the hiring decision should at the very least meet the candidate or talk to them. And don't make candidates come back for another interview. Waste the interviewee's time, and you'll leave a bad taste in their mouth—a surefire way to deteriorate the developer's trust in your company.
Asking the right software engineering questions
As the decision maker, correctly assessing the interviewee is a top priority. Knowing the right questions to ask, and being able to analyze the answers to gauge the interviewing software engineer's ability will make or break the interview. Making the correct choice ultimately revolves around obtaining the right information to make the right decision. Don't get lazy here, or you might make a bad hire. If you don't know how to do this, consider the next point.
Consulting with experts on technical interviews
If the decision-makers at your firm aren't familiar enough with software engineering to make an informed decision, there's no shame in involving an expert before, during, or after the tech interview. These can be individuals you trust, companies with a proven development track record, or even specialized recruiting and placement agencies. Leaning on these experts' support will almost certainly result in a better experience for all parties involved in the interview process.
3. The candidate experience
Finally, let's discuss the positive candidate experience you should provide when you look to hire software engineers. Conveying a professional experience throughout the interview process is an essential part of capturing high-quality software engineers in the market, and building a reputation that recruits even while you sleep. If you want the best, your entire hiring experience should be seamless, engaging, and memorable.
Oftentimes, candidates can feel nervous or anxious—make them feel more comfortable by offering them water, a snack, or a comfortable sitting environment. And ideally, minimize the time they sit around waiting to meet the next interviewer.
Consider your communication method for any online portions as well. If corresponding over the phone, make sure you're on a strong connection so that the call connects seamlessly and doesn't cut out. When the interviewee answers, make sure to give them a warm welcome to help them feel important and respected.
Disengaged employees are expensive, costing organizations $450-$550 billion every year. If you can't get a potential hire to engage with your process, you might have a problem with that candidate, or you've got a problem with the experience you're providing them.
Promoting employee loyalty should start at the initial interview. When a software engineer interviews for a position at your company, part of your job is convincing them that you're a great place to work. Any coder worth hiring will certainly receive other offers, so it's your job to entice them to work for your company.
Compelling a qualified software development candidate to work for your company means providing them with what they want—within reason. This can include appropriate compensation, flexibility, organizational culture, constructive recruitment feedback, training, and clarity. When you give a developer everything they're looking for, you're practically guaranteeing great results. To learn how Codility can help you interview software engineers and provide a great candidate experience, contact us today.