Introducing our market-leading features
Our ever-growing library of tasks gives you an accurate measure of every candidate's real-life skills, whilst providing them with a positive coding experience.
High-quality tasks, fair scoring
Our libraries cover a broad range of skills, tasks without ambiguities in the description and scoring without loopholes. This gives you unbiased and fair results, so you can qualify the best of the best.
Prevent plagiarism at scale
Our intelligent plagiarism detection and prevention protocols – from web crawlers to similarity checkers – provide accurate screening for you, without damaging the candidate experience.
Smoother candidate experiences
With speed, ease-of-use and instant feedback, CodeCheck gives your candidates the experiences they expect and deserve.
It's fair – 79% felt Codility fairly evaluated their skills
It's positive – 86% report a positive experience
It's accessible – fully compliant with web standards
Take a Tour of Codility Platform
Have questions? Book a customized 30-minute demo to view key features and see how we can improve your tech hiring.
Request a demo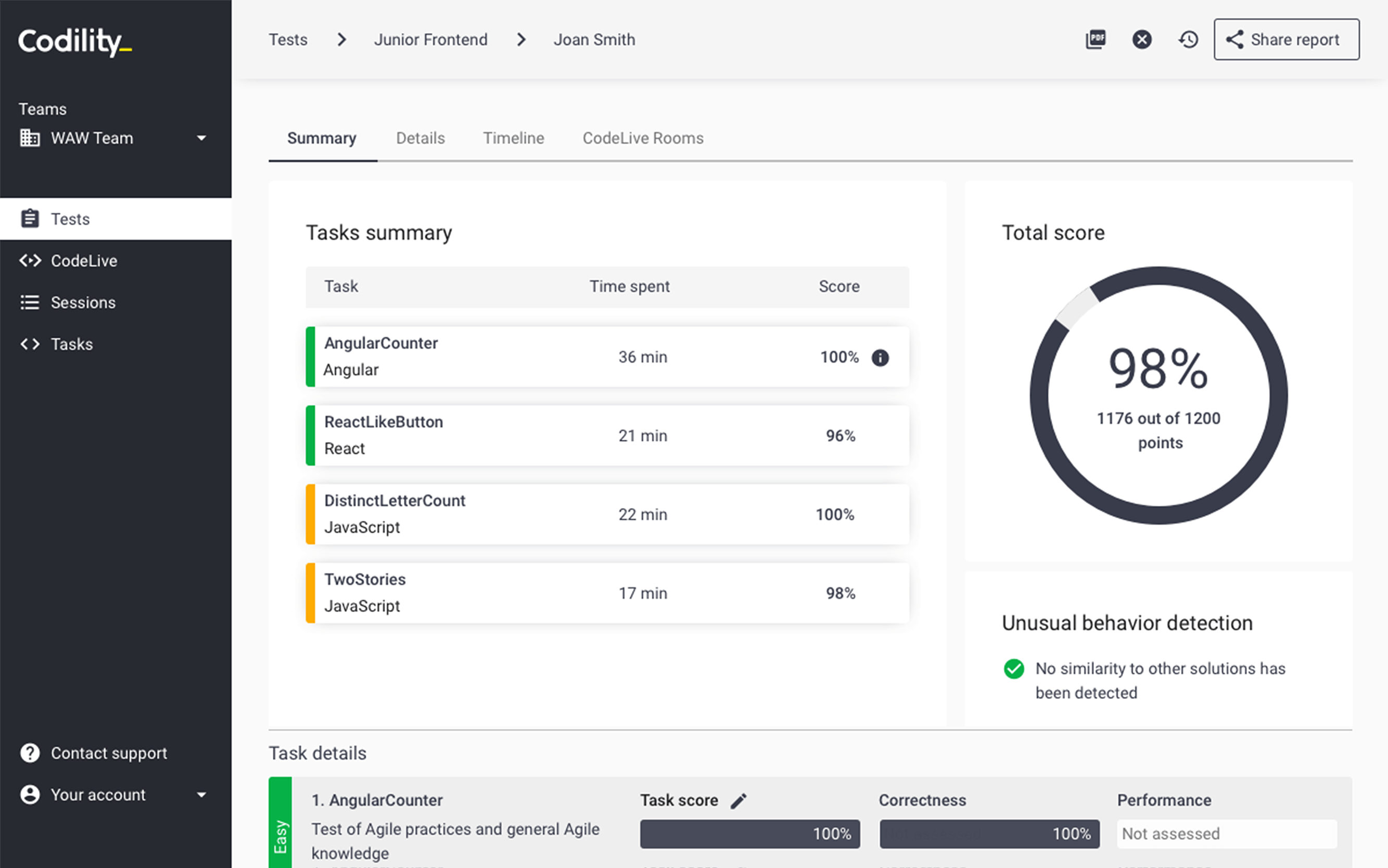 Add a layer of intelligence to your hiring stack
Connect Codility's tech recruiting platform with your team's applicant tracking system and productivity tools to help your whole team work smarter and recruit with velocity. ​​​​​Learn more
KNOWLEDGE HUB
Latest news and insights
Tech Hiring
Putting Your Engineering Candidates Through their Paces
To help improve your remote hiring capabilities, we've put together strategies that can help you assess your candidates. Learn how you can create an immersive and seamless candidate experience.
Read more